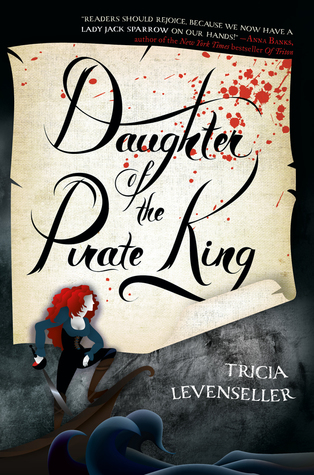 Daughter of the Pirate King by Tricia Levenseller
Series: Daughter of the Pirate King #1
Genre: Young Adult/Fantasy/Adventure
Page Length: 320 pages
Publisher: Feiwel & Friends
About Daughter of the Pirate King (via Goodreads):
There will be plenty of time for me to beat him soundly once I've gotten what I came for.
Sent on a mission to retrieve an ancient hidden map—the key to a legendary treasure trove—seventeen-year-old pirate captain Alosa deliberately allows herself to be captured by her enemies, giving her the perfect opportunity to search their ship.
More than a match for the ruthless pirate crew, Alosa has only one thing standing between her and the map: her captor, the unexpectedly clever and unfairly attractive first mate, Riden. But not to worry, for Alosa has a few tricks up her sleeve, and no lone pirate can stop the Daughter of the Pirate King.
I went in with high expectations (DOTPK was one of my most anticipated books of the year) and greatly enjoyed it overall, but was a bit underwhelmed in some ways. The plot and premise were absolutely fantastic, and I completely devoured the story, but the writing itself didn't quite live up to the grandeur I was expecting from such a swashbuckling and entertaining story.
I really loved all of the characters, but I would have liked more from them. The characters all seemed really unique and fun, but none of them seemed fully developed (even Alosa and Riden, despite being the main characters on the adventure). They definitely were developed enough to make the reading experience enjoyable, but I would have appreciated just a bit more character development throughout the story.
Alosa and Riden were definitely an interesting pair. Although the romance was a bit rapid and on/off (and not a major factor of the story), I really enjoyed how much they butted heads and the rollercoaster of emotions between them. Even though Riden was her captor, he was a genuinely kind person who I really loved learning about throughout the novel.
Overall, Daughter of the Pirate King was an immensely enjoyable read and wonderful debut from Tricia Levenseller. Diving straight into the action from the very first page, Levenseller hits the ground running (or the sea speed-sailing??? Idk if that's even a thing but I give up on my attempt to make this more applicable to the setting of the book *hangs head in shame*) and never relents with keeping up the pace.
My rating: 3 stars