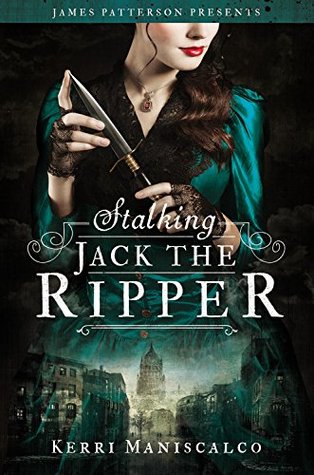 Stalking Jack the Ripper by Kerri Maniscalco
Series: Stalking Jack the Ripper #1
Genre: Young Adult/Mystery/Historical Fiction
Format: ARC (given to me by my lovely friend Rachel)
Publisher: Jimmy Patterson
Publication Date: September 20, 2016
About Stalking Jack the Ripper (via Goodreads):
Seventeen-year-old Audrey Rose Wadsworth was born a lord's daughter, with a life of wealth and privilege stretched out before her. But between the social teas and silk dress fittings, she leads a forbidden secret life.
Against her stern father's wishes and society's expectations, Audrey often slips away to her uncle's laboratory to study the gruesome practice of forensic medicine. When her work on a string of savagely killed corpses drags Audrey into the investigation of a serial murderer, her search for answers brings her close to her own sheltered world.
Stalking Jack the Ripper by Kerri Maniscalco was an absolutely fascinating and fantastic read. I went in with uncertainty, but quickly enthralled by Maniscalco's spectacular debut.
Historical fiction and mysteries are not the genres I typically gravitate toward, but Maniscalco's superb writing really transported me into late-19th century London and I was captivated by every intricate detail woven into the story. While some of the forensic elements were especially gory, it fortunately did not dominate the plot, as there were plenty of swoon-worthy romance scenes and laugh-out-loud dialogues.
The plot overall was just the right pace. It was a perfect blend of anticipation and action, and I was never bored because Maniscalco kept me on my toes with the mystery, romance, violence, and more.
While I haven't read a lot of mysteries, Maniscalco did a splendid job redirecting my thoughts along with the characters. Although I kind of figured out who was behind it all before the characters did, I will admit that it was a completely random, serendipitous thing that led me to suspect the culprit. I don't want to say much else because I don't want to give it away, but despite suspecting the character, the ending definitely threw me for a loop anyway.
The characters were so snarky and witty and overall wonderful. I absolutely loved how Audrey Rose and Thomas interacted, with so much banter, attempts to outsmart each other, and steamy kiss scenes resulting from passionate arguments. Audrey's cousin Liza was also surprisingly a favorite of mine, despite (or possibly because of) all her deception as being the perfect daughter and lady when she was really quite bright and attuned to everything (and had her secret, somewhat scandalous motives).
All in all, I absolutely adored Stalking Jack the Ripper. In fact, it is now one of my favorite books ever, and I am eagerly anticipating Hunting Prince Dracula, the next installment in Maniscalco's brilliant series.